1844 Wildberry Drive, Suite A, Glenview Illinois 60025 | Phone: 847.714.9400 | Fax: 847.714.9401
EXPERTS IN PAPER TRADING
Chaplik Trading Company is your paper merchant who sources and distributes high quality paper and paper board products domestically and worldwide. We provide personalized paper distribution and brokerage services that are unsurpassed. As an experienced paper merchant, we have grown into multiple divisions within our company including consulting, waste/recycle management, paper import/export, liquidation services, paper converting, paper inventory management, warehousing, delivery and much more. Education, service and savings are the cornerstone of the Chaplik Trading Company philosophy that will allow your company to grow to new levels of success. Our goal is to provide a long-term partnership that is dedicated and committed to creating a mutually prosperous relationship.
I developed Chaplik Trading Company to offer more comprehensive services, greater resources, and more options to better serve our clients on a day-to-day basis.
Warmest Regards, Barry Chaplik

IN THE NEWS..
Chaplik Trading Company occasionally appears in news events and editorials. In October 2014, Glenview Awards Program recognized Chaplik Trading Company for its excellent service. We were also covered in the Edition of Printing News.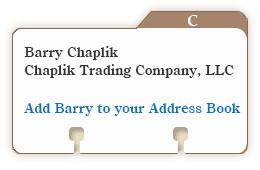 Follow us on Facebook:
Chaplik Trading Co LLC 

CHAPLIK TRADING COMPANY LLC
Home :: About Us :: Products :: Services :: Contact Us :: Privacy Policy
© 2021 Chaplik Trading Company, LLC. All rights reserved, USA and worldwide.